Alumna of the Month- August 2017
Carolin Margieh
Outreach Program, 2009-2011 
University of Akron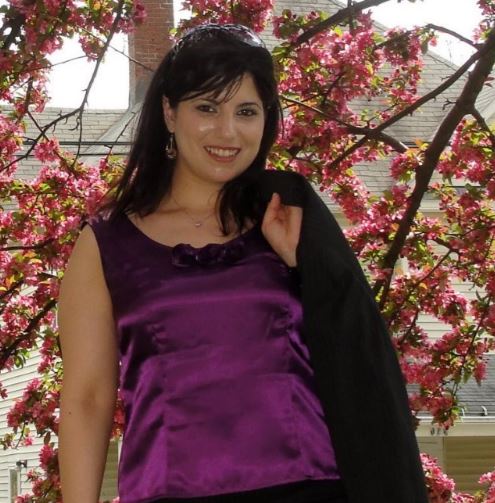 "My Fulbright experience was the best gift I have ever received in my life. I am thankful and grateful I had the opportunity to spend two years studying for my MBA in the United States. This one life experience changed not only my career path but also shaped the person I am today...The Fulbright experience is a gateway ticket to the opened world of opportunities. It was an eye opening experience and great exposure to learn from diverse communities and different cultures. A major take-away for me was learning, with gratitude, to accept others and respect their behavior."
~~~~~~~~~~~~~~~~~~~
Carolin Margieh began her academic training at the University of Haifa, earning her BA in Human Services and English Language and Literature. Professionally, she then began her career working for the Israeli Tax Authority's Compensations Department in Tel Aviv. Eventually she moved to the Ministry of Finance, where she was a Senior Tax Inspector in the Haifa Income Tax Office until 2009.
Then her life and career path took a dramatic turn when through the Fulbright Outreach Program, she was accepted into the MBA Program at University of Akron where she focused on Strategic Marketing and E-Business. During her two-year period of study in Ohio, Carolin gained invaluable experience that would have a major impact on her future career. For example, she was among a selected few MBA students who took part in the "Entrepreneurs EDGE Program" (Economic Development through Growth & Entrepreneurship) in Independence, Ohio in 2010. Here she joined the EDGE's Innovation Management Class, where she met CEOs, discussed innovations and new business ideas for Ohio businesses and economic development.
Carolin also worked on a BioDesign- Market Research team participating in the University of Akron- Austen Bio-Innovative Institute. She took part in the Goodyear Tire & Rubber Company Executive Leadership Forum in Ohio. She also attended the Fulbright Enrichment Seminar on "Global Challenges, Local Solutions: Fostering Change through Social Entrepreneurship" in Providence, Rhode Island.
Equipped with these experiences and the doors they opened for networking opportunities, Carolin soon found herself recruited to be a Project Manager by the CEO of Lumitex Inc., an Ohio-based firm that designed and manufactured lighting customs for electronic backlighting and medical devices.
Upon her return to Israel in 2011, Carolin took a major career step forward when she was hired as a Project Manager at Hewlett-Packard's Indigo Division. Working within the Marketing Department, she headed projects in the Sales Tools and Current Business Development units. Within a few years, she moved up to Market Development Manager in the Sales Department where she currently works to expand HP-Indigo's business into new territories and acquire new markets. Carolin can be contacted at: [email protected].