Fulbright Israel Announces Sender Cohen as New Chairman of the Board
Fulbright Israel is pleased to announce the appointment of Mr. Sender Cohen as Chairman of the Board of Directors. Mr. Cohen is the Chief Investment Officer of Schusterman Interests LLC, the investment office for the Schusterman family as well as for the Charles and Lynn Schusterman Family Philanthropies. Previously, Mr. Cohen was President of Soros Capital, and prior to that he was the Director of Research and Head of External Allocations at Soros Fund Management, as well as a Managing Director at Duquesne Capital Management. Mr. Cohen currently serves on the boards of the Israel Institute as well as Leadership Enterprise for a Diverse America (LEDA) and is a trustee emeritus of Yeshiva University and the founder of the Natan Fund. He lives in New York with his wife and four children.

Mr. Cohen was selected to lead the bi-national board by U.S. Ambassador to Israel Thomas R. Nides. As the United States' flagship international academic exchange program, Fulbright fosters academic and cultural ties between the people of the United States and people from more than 140 countries around the world. Since 1956, the Fulbright program with Israel has provided fellowships to more than 3,600 American and Israeli students, writers, teachers, and scholars. Alumni of Fulbright exchanges between Israel and the United States include Nobel, Pulitzer, and Wolf Prize laureates, members of Knesset, and countless leaders in academia, industry, and public service.

ETA-ELF enrichment seminar - sharing experiences in teaching English in Israel
Fulbright Israel held an ETA-ELF enrichment seminar. It was a wonderful opportunity to bring together both our U.S. English Teaching Assistant (ETA) Fellows and English Language Fellows (ELF) allowing them to share experiences, successes, and challenges in teaching English in Israel.

Our ETA fellow, Willow Green, lead a "connecting movement and language" session and the American Center held a session on dealing with different opinions and experiences in the classroom. Participants also discussed and practiced ways to not only convey the English language to their students, but also to create a more immersive experience in doing so. The seminar was held in collaboration with the American Center in Jerusalem.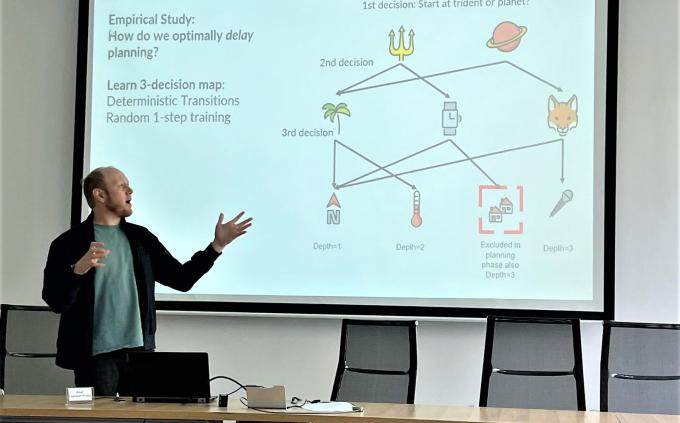 What is the relationship between our ability to plan and our ability to worry? Can computers solve any problem?
Can computers solve any problem? What can we understand about a society based on how its violence is perceived? And what can be concluded about the architecture of Late Antique Ashkelon when looking at and analyzing findings from the local antique bath?
Twelve U.S. Fulbright Israel postdoctoral fellows convened for a day at the Van Leer Jerusalem Institute. The fellows presented their research plan and answered their peers' questions. Academic connections between fellows in different disciplines were created and strengthened. The enlightening presentations included how applying the tools of theoretical physics help to understand complex biological systems, analyzing cultural texts to understand national perception of violence, and using 'computational psychology' to ask questions about various behaviors.
Photo by Neri Leder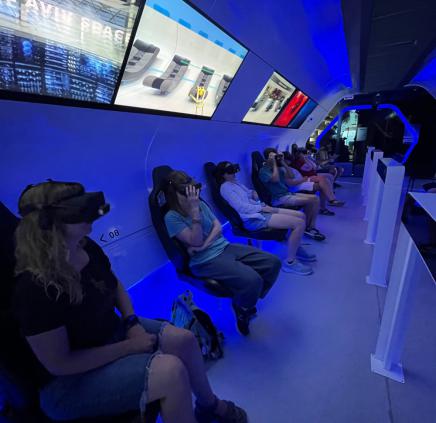 American high school teachers participate in Israel's Fulbright-Hays program
The Fulbright-Hays program, attended by 14 American high school teachers, recently concluded in Israel. The month-long program exposed them to the diverse factions in Israeli society, including its many cultures, religions and factions. They met with peers, experts who work with children in differing capacities and with Fulbright Alumni and learned of the country's history via workshops and tours. At the end of the month, each teacher presented a project based on what they had learned.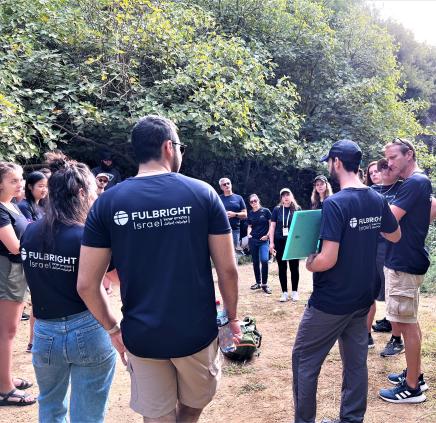 New U.S. fellows participate in Fulbright welcome Orientation
This year's Orientation saw the arrival of 27 American fellows to Israel. The overnight event focused on water and its mythical, religious, political, economic, cultural and esthetic meanings. The orientation began at the Nahum Gutman Museum. The group then went up north via Caesarea, Wadi Ayun and Agmon Hula, till the border with Lebanon and Syria. Through travel they not only learned about Israel, but also traced water spots, looked at art and nature, and listened to stories about water as a motif and as a natural resource.
What to expect in academic job interviews? How to make sure you are professional, authentic, likable, demonstrate your experience, accomplishments, and good fit for the position and the institution, while giving solid examples?
Fulbright U.S. Postdoc fellows recently participated in an extensive workshop, presented by Lili Foggle, who taught specific skills and strategies on how to successfully communicate a postdoc's unique value during job interviews, at all stages of the interview process.