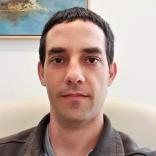 Hagay Shacham
Amakim-Tavor High School >> Arizona State University
Hagay Shacham is a mathematics teacher in Amakim-Tavor regional high school in Kibbutz Mizra. He also serves as the 9th grade coordinator at the school.
Hagay is a graduate of the Technion – Israel Institute of Technology, where he earned his academic degrees, B.Sc. in Mathematics, B.Ed. in teaching of Mathematics and M.Sc. in Mathematics.
Hagay is engaged in finding ways to encourage active learning by high school students, believing that this way of learning is more significant and has a better effect. His main goal is to shift the focus of the learning from teacher-centered learning to student-centered learning. Through his fellowship he is hoping to further explore this area, getting to know current activity and finding ways to implement more aspects of active learning in the day-to-day learning in high schools.
Read more
Show less
Shai Shahar
The Hebrew Reali School >> Indiana University of Pennsylvania
Shai is a science teacher for 10th to 12th grades as well as a lecturer on the world of chemistry in the Department of Life Sciences at the Open University.
In 2016 Shai was awarded Outstanding Teacher by the Israeli Chemistry Society.
Read more
Show less
Yael Yaffe
Alliance High School Haifa >> Syracuse University
Yael Yaffe teaches Psychology and Hebrew-Bible in the 10th to 12th grades. She has been a high school teacher for 20 years and served as a teacher as well in the IDF for two years (Israeli Defense Force). Since 2011, she has been a lecturer in the Department of Counseling and Human Development at the University of Haifa. As part of her role, she trains students who intend to be teachers.
Read more
Show less
Smadar Cohen
Beit Or High School >> Syracuse University
Smadar is an English Teacher & coordinator.
Read more
Show less
Magdoleen Hazran
Al-Sarrasi Secondary School >> Syracuse University
Ms. Magdoleen Hazran, is a mathematics teacher at the Sarisa Middle School in the Druze village of Yarka, is a graduate of the Weizmann Institute and is currently the mathematics department head in her school. She frequently records her classroom lessons with a video camera, in order to identify learning challenges among her students and to improve her response and feedback.
Read more
Show less
Adina Katriel
Neve Sara Herzog Girls High School >> Indiana University Bloomington
Adina Noga Katriel is a film teacher in high school. She has been teaching film for over 8 years. She is currently teaching at Ulpena Neve-Sara Herzog, which is in Bnei Brak, Israel. Her students come from a variety of cultures and through the art of film Adina teaches them to develop and acquire tools for life. Like her students, Adina was first introduced to film in high school where she fell in love with the subject. Her final film in high school won second prize at the national film competition for high school students. 
Read more
Show less
Ornit Maimon
Ort Hazor Haglilit >> Indiana University Bloomington
Ornit Maimon is a youth at risk home class teacher and a mathematics teacher at Hatzor Haglilit High School in Israel for the past five years. She obtained her Ph.D. in Geophysics at the Hebrew University in Jerusalem, Israel and become a teacher at the Teach for All program, Israel. Ornit is also a geology lecturer at Tel Hai College in Israel and has been a university lecturer and teaching assistant for 12 years. Ornit is the Director of Excellence in her school. She is also a member of "Moona – Space for Change" company that develops new educational programs for teaching Mathematics and Sciences by using Escape rooms. 
Read more
Show less
Nourit Ben David Erez
Eithan Freed English Center >> Indiana University Bloomington
Nourit Ben David Erez has been an ESL teacher for over 7 years. She teaches at the Eithan Freed Center in Ramla, Israel. Through her LD children and students Nourit realized the difficulties they encounter while trying to learn English which is so different from the Semitic language. During 2010 Nourit attended an online course offered by the University of Oregon and the State Department. This course "Building Teaching Skills through the Interactive Web" introduced her to the possibilities the internet can offer and paved the way to her inquiry project.
Read more
Show less