Dr. Jessica Isaacs
Program: Fulbright Postdoctoral Fellow, 2012
Host Institution: Tel Aviv University
Home Institution: Drexel University
Field: Bio-Mechanical Engineering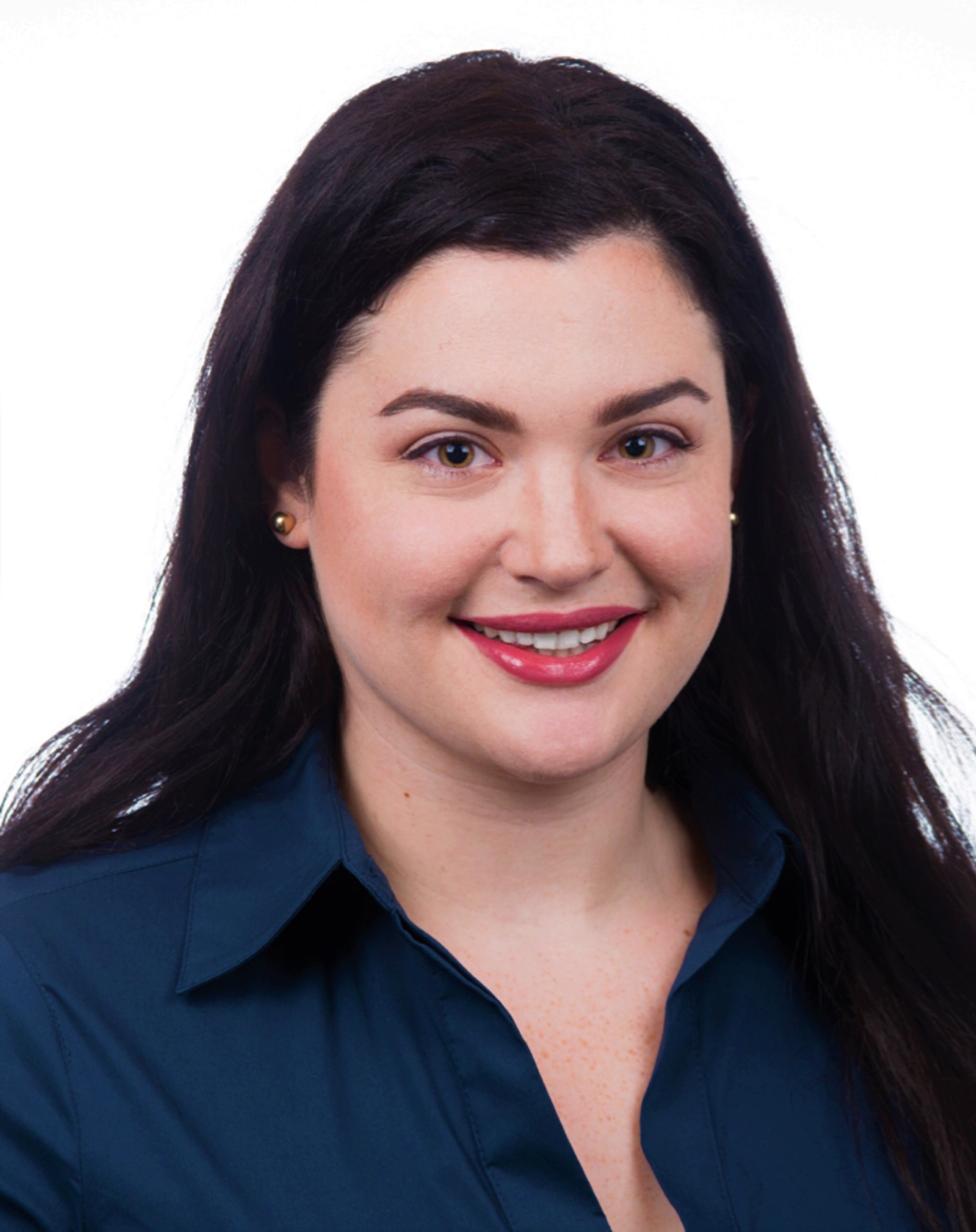 "Living and working overseas, during my post-doc as a Fulbright Fellow, was one of the most exciting and rewarding experiences I have had both professionally and personally. It was amazing to work with colleagues from all over the globe, merging a myriad of expertise on projects that are positively impacting society as a whole."
***
As a Senior Bio-Mechanical Engineer, Jessica's multidisciplinary work integrates materials science and engineering, bioengineering and mechanical engineering.  Having arrived at this unique professional interface, Jessica always knew that she would find her career in STEM.
The seeds were planted while she was a youngster. Doing a third-grade school project, Jessica's father, an engineer, brought home solar panels from his work for her to run experiments on.  "There was actually one, defining moment when everything clicked for me," Jessica recalls.  At ten years old, Jessica's parents took her to see the movie, Apollo 13. "During the pivotal scene where Jim Lovell, played by Tom Hanks, misquotes the famous line, "Houston, we have a problem," Jessica recounts, "I turned to my parents and said, 'When I grow up, I want to be Houston.'
Jessica therefore chose Mechanical Engineering for her B.S. at Widener University in Pennsylvania. As an undergraduate student, a co-op opportunity working side-by-side with engineers, surgeons and their marketing team at a medical device company opened her eyes and honed her academic pursuits: "That experience showed me there was more to mechanical engineering than spaceships and finite element modeling. It was my first real exposure to biomechanics. Over my next few academic years, and throughout my graduate school research and post-doctoral work, I continued to focus on spine biomechanics."
With fresh direction, Jessica completed her M.S. degree and then earned her Ph.D. in 2012 in Mechanical Engineering and Mechanics at Drexel University. Her doctoral research focused on spine biomechanics, the effects of degeneration and age on the intervertebral disc and injectable hydrogels.
In 2012, she embarked on a year-long Fulbright postdoc fellowship at Tel Aviv University. "Working with an international interdisciplinary research team was an invaluable learning experience," Jessica reflects. Her research in Israel was two pronged: probing the predictive, multi-parametric computational biomechanical models for the diagnosis, management and repair of lumbar spine pathology; and characterizing fiber reinforced bio-composite materials.
Her extraordinary academic experience was matched by a rich cultural exchange: "Along with being surrounded by brilliant academics, I was exposed to a myriad of multicultural celebrations, new lifestyle settings, delicious culinary treats, a wider understanding of tolerance and kindness towards others, and, most importantly, a new sense of who I am as a global citizen" Jessica notes. A Fulbright enrichment seminar with other Middle-East based Fulbright scholars in Egypt enabled Jessica to fulfill her childhood dream of seeing the oldest of the Seven Wonders of the Ancient World at the Giza pyramids.
After returning to the U.S. in 2013, Jessica taught for two years as a Visiting Assistant Professor in the Mechanical Engineering Department of her alma mater, Widener University.
She then pivoted into industry, and currently works at Exponent, a Philadelphia-based Engineering and Scientific consulting firm. Here she focuses on human injury biomechanics and evaluates kinematics (the geometry of motion) and the mechanisms of injury. Her work includes evaluation of injuries occurring in vehicular, pedestrian, occupational, recreational and fall-related accidents, as well as injuries associated with the use of consumer products.  She also contributes a variety of research articles to automotive-related publications.
Inspiring her work and research is an interdisciplinary axiom which she sums up: "The ability to apply the principles of mechanical engineering to biological systems; and to examine the relationships between the forces applied to the human body, the motions of the human body and the physical and mechanical damage to structures of the body."
Contact Dr. Jessica Isaacs: Dr.J.Isaacs@gmail.com
All photos courtesy of Dr. Jessica Isaacs.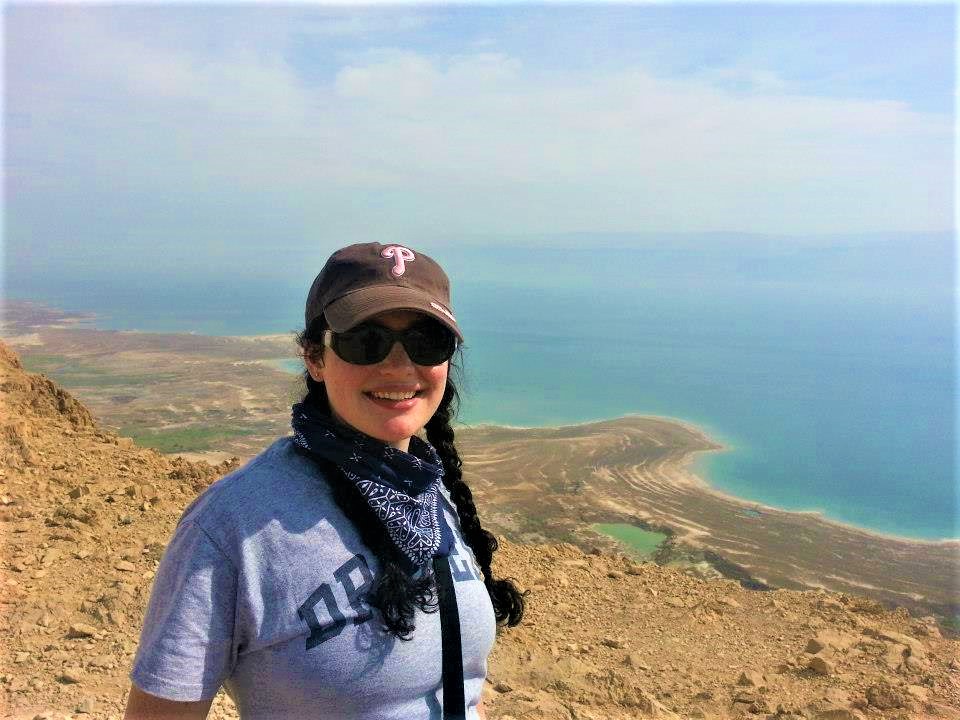 Overlooking Israel's Dead Sea, Jessica takes in the view.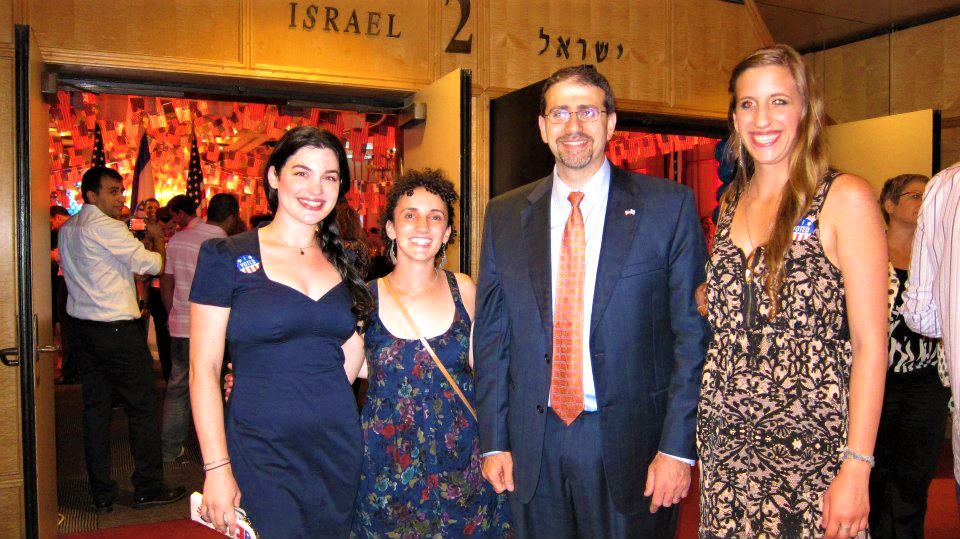 Jessica stands with former U.S. Ambassador to Israel, Daniel Shaprio, and friends in Israel on election night, 2012.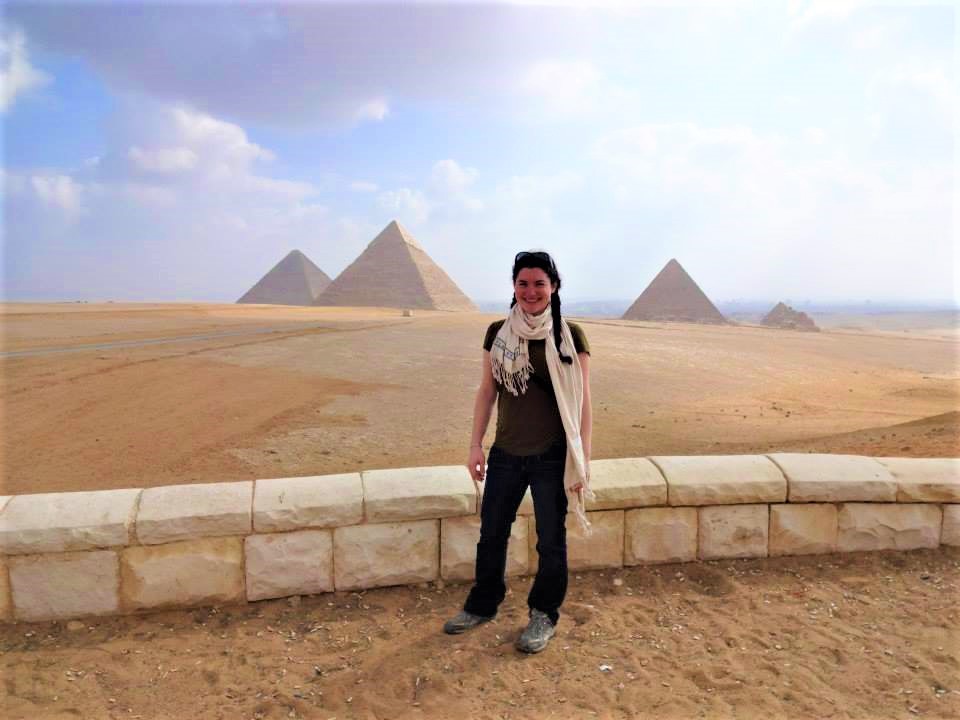 Jessica fulfills her childhood dream of seeing the Giza pyramids in Egypt while on a Fulbright Middle-East seminar trip.