Alumnus of the Month- October 2016
Dr. David Gurevich
Post-Doctoral Fellowship, 2014-2015
Harvard University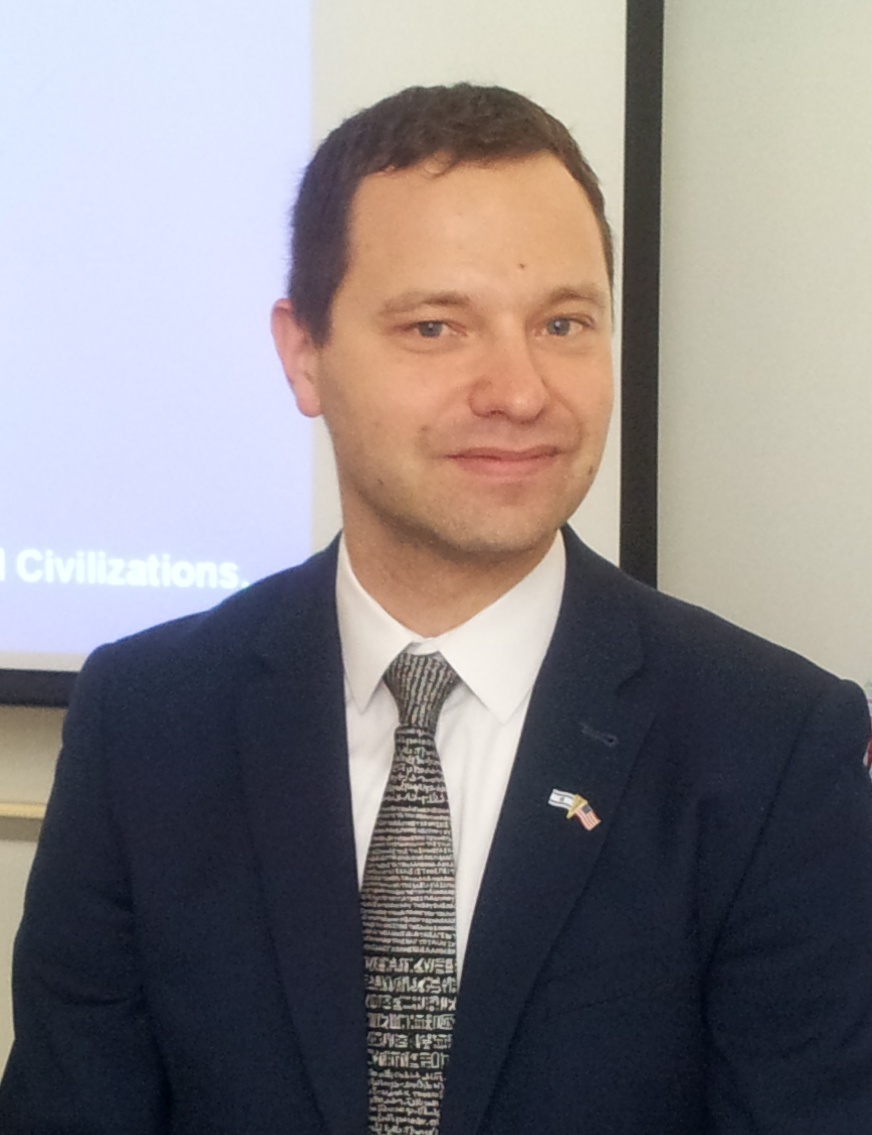 "It's hard to think of a single event that has been more significant in my professional career than the Fulbright year at Harvard.", says Dr. David Gurevich, an ex-Fulbright Post-Doctoral Fellow 2014-2015. "I met many new colleagues, I gave lectures, I participated in workshops for faculty members in the digital humanities. I have accumulated many tools to continue my research. It was also fascinating to learn how the academic system in the US works", he says.
~~~~~~~~~~~~~~~~~~
Dr. David Gurevich is a Post-Doctoral Fellow at the Institute of Archaeology of the Hebrew University of Jerusalem. He holds a B.Sc in Computer Science and Archaeology, MA and PhD in Archaeology from the University of Haifa. He also holds an MA in Social Sciences from Sapienza University of Rome. His specialization is archaeology of Jerusalem and of the Holy Land in the Second Temple period. Dr. Gurevich is the Founder of the public diplomacy academic program "Ambassadors Online" at the University of Haifa that provides students the tools to represent Israel in the international arena.
In 2014-2015, Dr. Gurevich was appointed as a Fulbright Post-Doctoral Fellow at Harvard University. He devoted his research to the historical geography of Jerusalem in the Late Second Temple period, and further research on the basis of archival documents of 19th century excavations by the Palestine Exploration Fund.
Israeli Fulbright fellows who are appointed to the US have a dual role: they stand at the forefront of research, and also act as ambassadors that aim to develop the friendship between the Israeli and American academic communities. Dr. Gurevich took the two tasks seriously. He was invited, as part of the Fulbright Outreach Program, to speak aon public events at the University of Hawaii and University Bellarmine in Kentucky. Dr. Gurevich also met with many Jewish communities in the US, participated in panel discussions and ran workshops about Israel.
Upon his return to Israel, Dr. Gurevich was awarded a scholarship by Yad Ben-Zvi, and conducted research on the Great Revolt in Jerusalem (70-66 CE). Recently, he joined the staff of the Horvat Midras excavations expedition. In his new project, he applies methods for digital 3D documentation of archaeological sites. Also, he is co-editing a volume of papers on the beginning of the archaeological research in our region. In addition to his academic duties, Dr. Gurevich works a licensed tour guide in Israel (English, Russian), and gives lectures worldwide on Israel's history, archaeology and geo-politics. He can be reached at [email protected]