Alumnus of the Month- March 2017
Dr. Fadi Deeb
Outreach Program, 2010-2012 
State University of New York, Stony Brook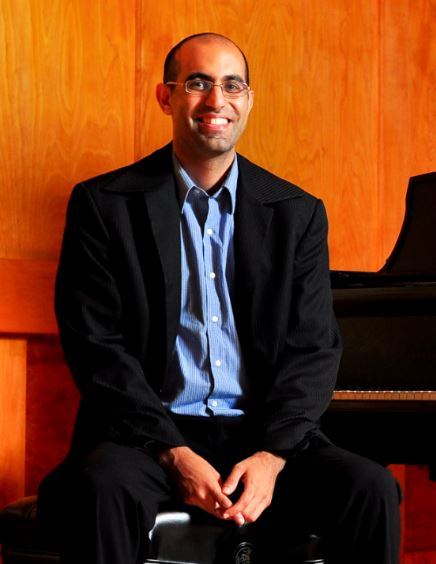 "Fulbright gave me the chance to enhance my knowledge in my field of study and enriched my life by giving me the chance to live in the US. Thanks to Fulbright I had an amazing adventure that I will never forget."
~~~~~~~~~~~~~~~~~~~~
Growing up in Nazareth, Dr. Fadi Deeb began playing piano at the tender age of nine. He began his formal training in Piano Performance at the Jerusalem Academy of Music and Dance, where he earned both his Bachelor and Master of Music. Deeb then went on to pursue his Doctor of Musical Arts at the State University of New York-Stony Brook which he completed in 2016 through the Fulbright MA Outreach Program. A piece from his final recital for his degree, Johann Sebastian Bach's Prelude and Fugue in B minor, can be seen here.
An accomplished international performer, Dr. Deeb has appeared in concert with violinist ShanRong Tuo in a chamber recital at the Yan An University in Xi'an China (2016); with the Kilmus String Quartet at Staller Center in Stony Brook New York (2015); at the Palest'In & Out Winners Concert at the Institute du Monde Arabe in Paris (2015); and at the Duetschlandfunk Contemporary Music Festival in Cologne Germany (2013) in a full solo recital. Dr. Deeb's performance of Brahms Paganini Variations at the Staller Center in Stony Brook can be seen here.
Dr. Deeb is also the recipient of numerous honors and awards, among them the Suffolk Piano Teachers Foundation Scholarship for Outstanding Pianist at Stony Brook (2016); first place winner at both the Paslet'In & Out Competition in Paris (2015) and the Ackerman Chamber Competition in Stony Brook New York; as well as semifinalist in the 10th Lyon International chamber Music Competition in Lyon France (2014).
Recently returned from the US, Dr. Deeb currently teaches music theory at Bir Zeit University and is a Piano Instructor at both the Edward Said National Conservatory in Ramallah and at Beit El Musica in Shefa-Amr in northern Israel. Dr. Deeb also continues his public performances, his most recent appearance in a duo concert of classical romantic violin with Hisham Khoury in Zikron Ya'akov last month.
Dr. Deeb's music has also been recorded in two recent projects: "Passe-Present" in an album entitled "Letters to Palestine" produced by Samer Jaradat (2015) and a full solo piano album of Palestinian contemporary music produced by Gideon Boss, under the GB label, to be released in the middle of 2017.
Dr. Deeb can be contacted at fadideeb@rocketmail.com