Alumna of the Month- February 2018
Dr. Maha Alawdat
Outreach Program, 2011
Indian University of Pennsylvania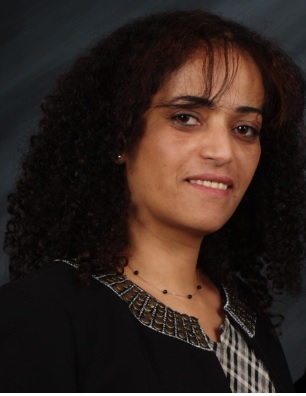 "Fulbright was a tremendously remarkable experience because it provided me with unique opportunities, knowledge, and connections to educators around the globe."
~~~~~~~~~~~~~~~~~~~~
Dr. Maha Alawdat began her academic training at Bethlehem University where she earned her BA in English Language and World Literature. She then moved to Ben-Gurion University of the Negev, the area where she grew up, and completed her MA in English and Foreign Literature and gained her qualifying professional diplomas in Teacher Training and Educational Management.
Starting as the editor of a school magazine at the Kseifa Comprehensive School in the Negev, Maha went on to become an instructor and coordinator of teacher training programs in Kseifa (Beer Sheva) and throughout Israel. Eventually she became an ESL Instructor and English Coordinator at Kseifa Comprehensive School and Instructor at Kaye College in Beer Sheva.
In 2011, while working as the English Coordinator for the AMAL Kseifa Abu Rabe'a Comprehensive School, Maha's life path took a dramatic turn: she successfully applied for the Fulbright Outreach Scholarship and began a PhD program at Indiana University of Pennsylvania (IUP), a public research university in Indiana.
Maha enrolled in the Composition and TESOL PhD program and was an active member of the university community. She served as Coordinator for conference and workshops of the Composition and TESOL Program and was its Public Relations Officer. When her official Fulbright fellowship ended in 2013, Maha continued her PhD studies and also began working as a Teaching Associate Faculty Member in the English Department, and as an Instructor at the University's American Language Institute. When asked about the impact of her Fulbright experience on her life Maha comments: "Fulbright was a tremendously remarkable experience because it provided me with unique opportunities, knowledge, and connections to educators around the globe."
In 2015 Maha completed her PhD, writing her dissertation on "Using ePortfolios to Teach Writing in English Departments." The same year she returned to Israel and resumed her teaching in her local Bedouin community in Beer Sheva. Currently, Maha is an English Instructor and Coordinator at the ORT Abu Rabe'a Comprehensive School, part of the AMAL Education Network; as an English Instructor in the English Department at Kaye Academic College of Education; and as the English Coordinator, working for the Ministry of Education, at the Kseifa Abu Rabe'a Junior High School.
Ever eager expand her professional horizons, Maha is currently involved in a two-year Ministry of Education teacher enrichment course for Diplomacy and International Communication in English, a new specialty being piloted in high schools. She also involves her students with the "iEarn" and Bridge Programs which facilities interaction in English with students in Japan and the US.
A selection of Maha's publications include:  Finer, B. S., Shelly, L. B., Gatta, O., Alawdat, M., & Warmington, R. (2016). Lo-tech tools as episteme: Rethinking student engagement in the writing process and beyond. Journal of Pedagogic Development 6(1), 54-61; Alawdat, M. (2015). Standing Alone in Darkness. In D. Pickering (ed.), Harbinger Asylum: A Quarterly Journal for Literature and the Arts. USA: Transcendent Zero Press, 68.
Dr. Maha Alawdat can be reached at [email protected].